Mixing Milk Paint
April 30, 2018 16:32
How to Pick & Mix Milk Paint
Hello Branch Tribe,
With the spring weather finally in full force, we're sure you have some projects you want to get working on!  
We're here to help you out! We've decided to start a series of blog posts to explain the steps on how to use Miss Mustard Seeds Milk Paint! This is our first post of the series where we'll be teaching you how to pick out the colour to use & how to mix it.
Along with these blog posts, we'll have short videos to help with process.
Let's get started!
...
Deciding on which of these amazing 25 colours you want to use can be the hardest part of using Milk Paint.
Here's a few things you can conside while picking your colour.
...
What is your colour scheme?
You want to pick a colour that will look good in your space. Consider where you are placing the item and what colours would flow well in the room.
If this is the statement piece in the room, a dark colour will pop in a bright space. As will a bright colour in dark space. A bold colour will pop in a neutral space. ​​​​​​​
2. What feeling are you looking for?
Different colours capture different feelings or emotions. A dark colour can ground a room, a softer colour can feel airy and brighter colours can make a room bolder.
​​​​​​​3. Stay in the same colour family.
All colours have either a cool or warm undertone. Look around your space and find out if your room has more cool tones or warm tones. Putting a cool toned piece into a warm tone space may look awkward.
4. What is the surface you're applying it on?
Take into account what type of surface you are painting on. If you are painting on a cherry wood and you want to paint Grain Sack, which is a cool tone colour, you might need to do more coats to make it more pigmented.
Finishes may look different depending on the base colour. You can also have the base colour showing by distressing the top coat.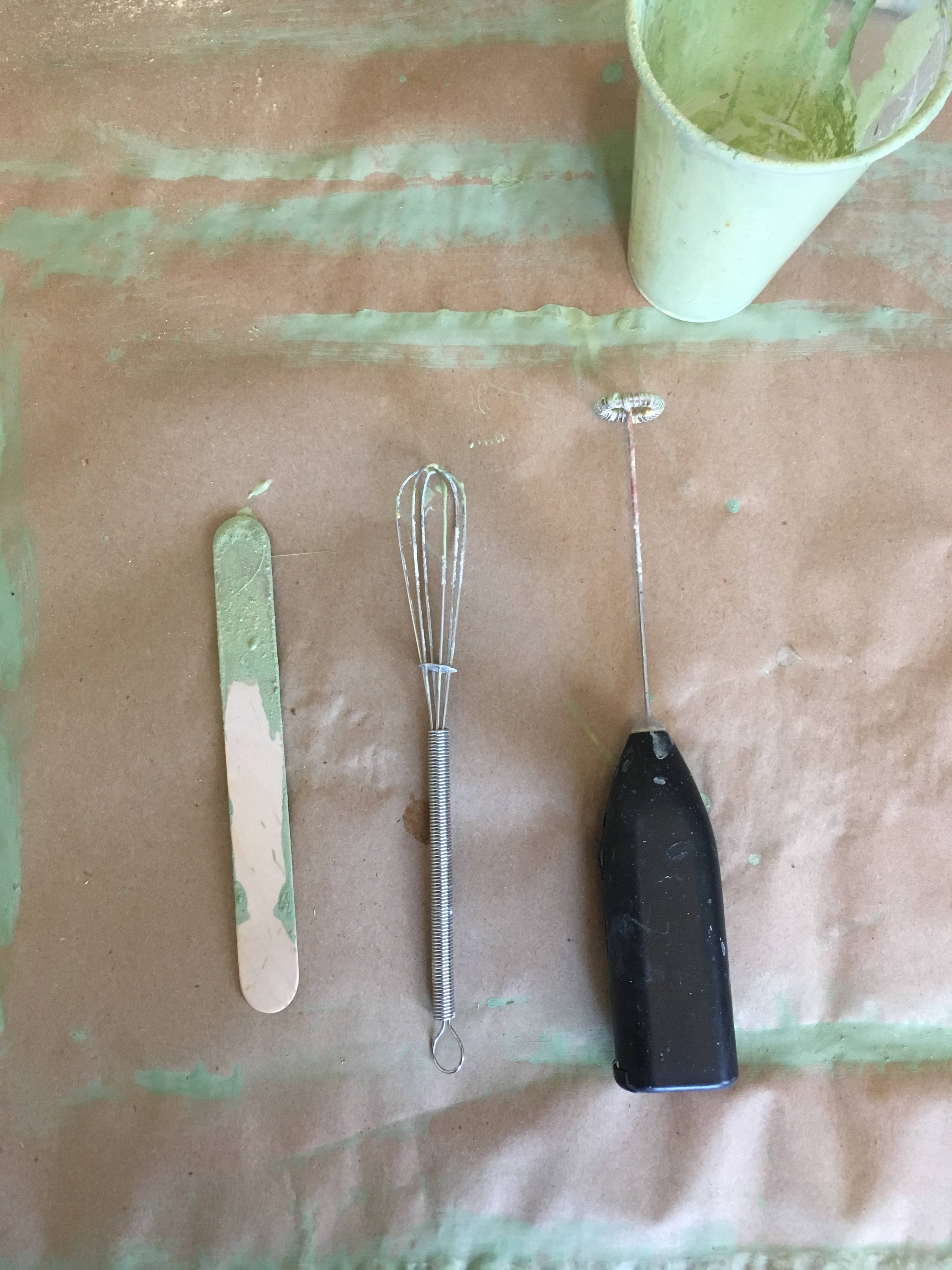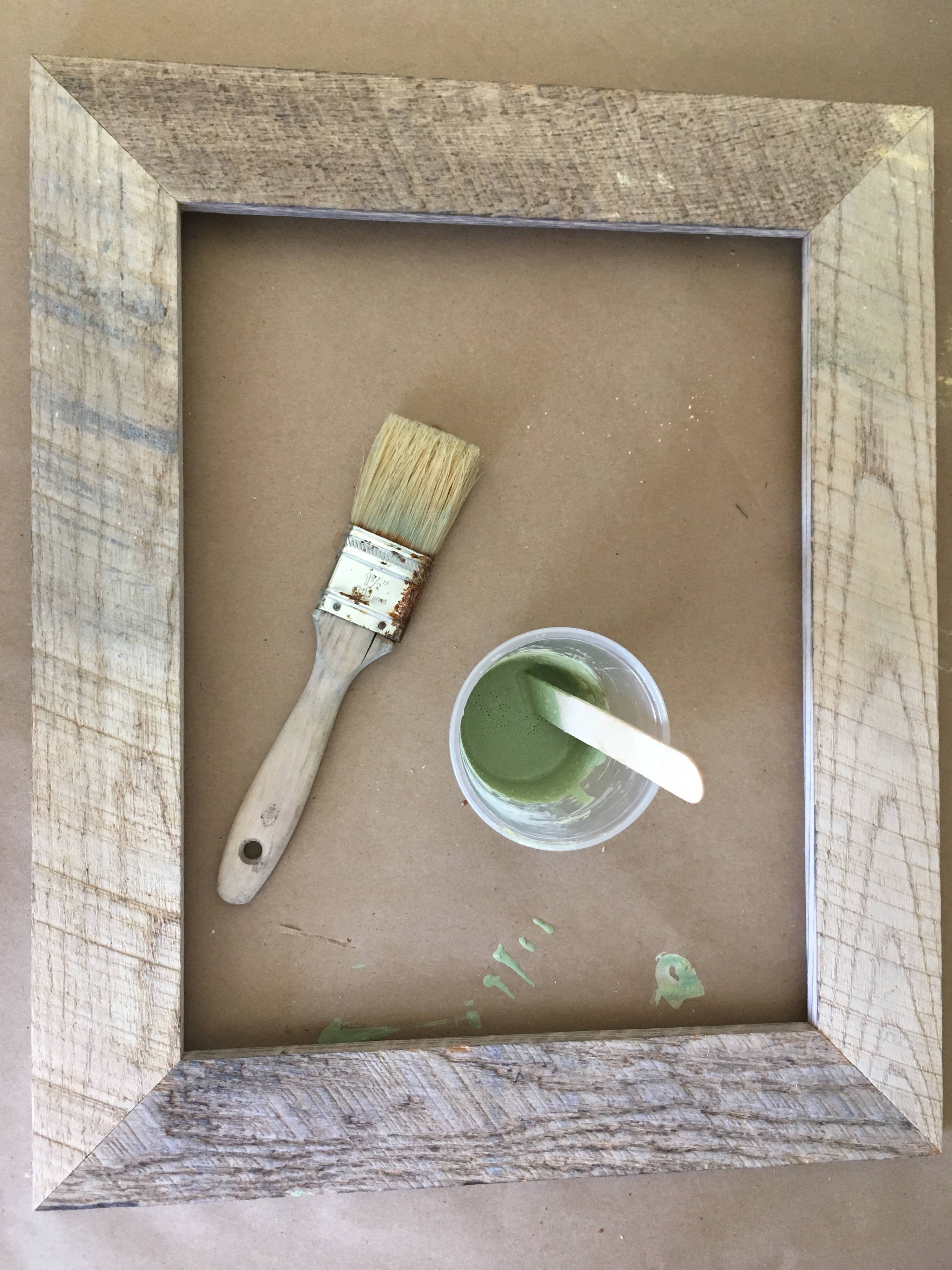 Milk paint is a powder and needs to be mixed with water before using. Here's a few mixing tool options you can use.
Wooden Stir Stick

These can be found at the craft store, we love the wooden stick as you can feel the paint and can scrape the powder off the sides of the cup.

Metal Whisk

These help the paint get absorbed into the water faster.

Manual Frother Wand

Tap the wand along the bottom of the cup to mix the paint, try to do it in short bursts, if you let the wand mix longer, you could end up frothing your colour. If you do end up creating frothy bubbles, just let the paint sit for awhile to settle.
You'll also need a cup, water, natural bristle brush& a measuring scoop.
Now that you know all the tools you can use to mix the paint, let's get started with how to mix it. Above is a short video that shows how you mix the paint. We'll also be going through a step by step process here.
We choose to store our Milk Paint powder in a mason jar for convenience.
To create a opaque, true to colour look, use a 1-to-1 ratio of paint to water. If you are looking for a stained look, use more water than paint: 2-to-1 or 3-to-1 ratio.
Measure out your desired amount milk paint into your cup. On the frames we're painting, we used 2 scoops of milk paint.

Milk Paint goes a long way, one bag will do a whole hutch or a dresser and two side tables.

Add your water. Use the same amount of scoops of water that you did for milk paint. We added 2 scoops of water.
Start mixing! You can pick your choice of tool you want to use, all listed above.
You want your paint to have the consistency of melted ice cream. It should drip off the stick but not be super liquidy.

If you find it to be too thick, add more water. If you find it to be too thin, add more powder and continue mixing.
Be aware that depending on the temperature or humidity of your space, it might effect how the milk paint mixes. Normally a 1-to-1 ratio works.

Let it rest for a couple of minutes. This will allow the water and pigment to meld more.
Give it one last mix before starting to paint.
Don't forget to mix your milk paint through out your project as the powder does sometimes separate to the bottom.
There you go! You should be ready to start painting your project. Our next post in the series will be on applying milk paint.
Happy Painting!
If you have any questions feel free to come in store or send us a message! We love Miss Mustard Seed products and want to make sure you get amazing results too.