Applying Milk Paint to Raw Wood
May 18, 2018 15:55
How to Apply Milk Paint
to Raw Wood
Hello Branch Tribe,
We are back with our second Miss Mustard Seeds Milk Paint tutorial! In this blog post we'll be talking about how you apply the first layer of Milk Paint to raw wood surfaces.
Milk paint is a powder and needs to be mixed with water before using. Learn more about how to do this in our Mixing Milk Paint blog post.
It's so easy and quick... plus it's all natural and environmentally friendly. Available in 25 amazing colours and you can create your very own custom shades.
Let's get started!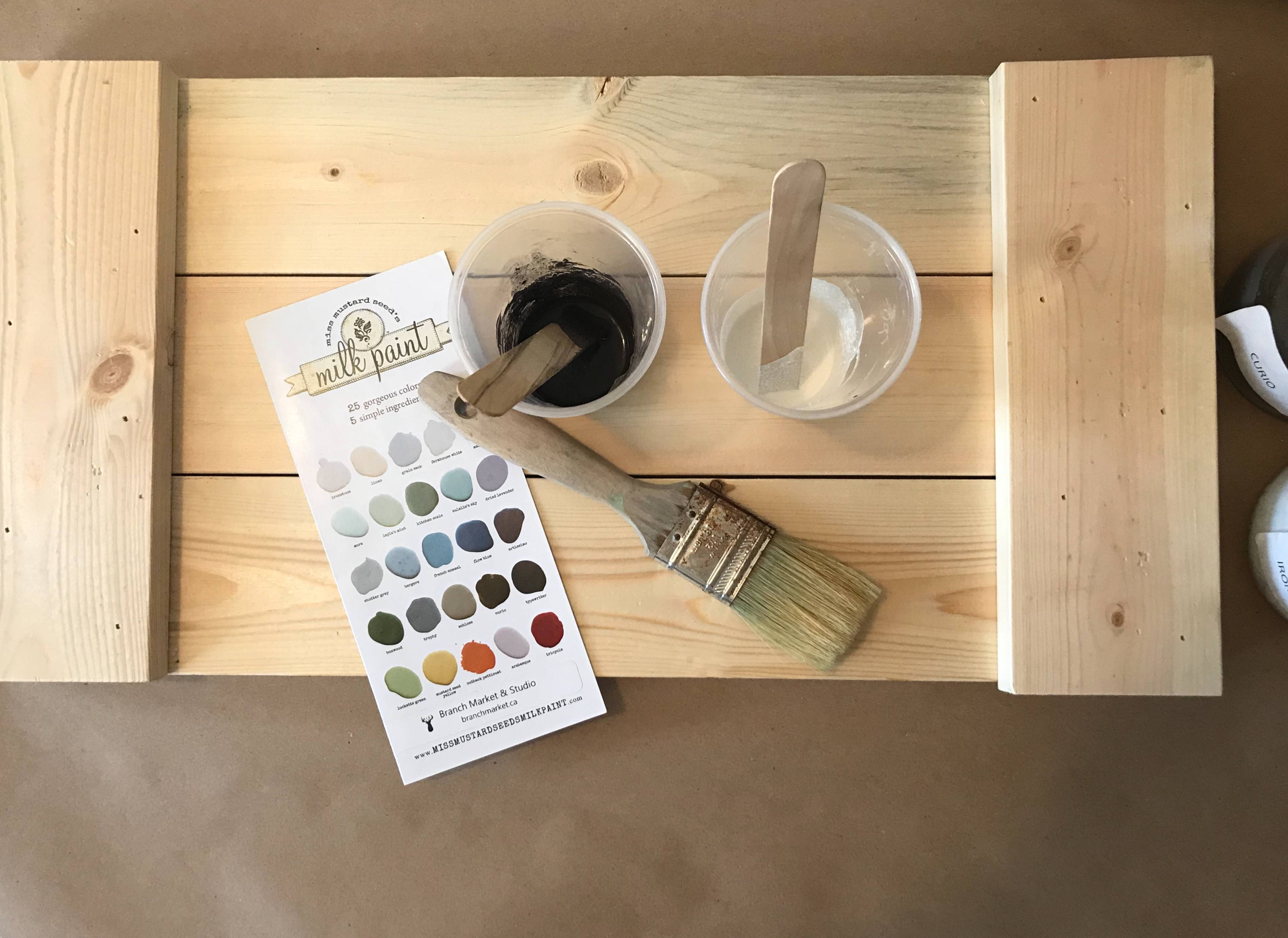 For this project we're painting directly onto raw wood. Raw wood is simply wood that has not been finished or painted. We mixed a 1-1 ratio of water to powder. This creates an opaque finish, a true to colour look. If you'd like more of a stain finish with the wood grain showing you can add more water and do a 2-1 or 3-1 mix. Watch our Mixing Milk Paint blog post for more info.
Rebecca wanted to paint the tray a dark colour like Curio first and then layer a lighter colour like Farm House White over top.
Here's a few tools you'll need for applying milk paint.
Mixed milk paint colour to desired constistency
Stir stick
Brush
Here's a short video of Rebecca, the owner of Branch, that shows you how to apply milk paint to raw wood surfaces. We'll go through a step by step process below.
Applying Milk Paint is easy, peasy... especially on raw wood surfaces!  
Start with wetting your brush. This allow the brush to absorb the milk paint easier.
Dip your brush in the paint and apply in long even brush strokes.

Milk Paint has a long working time, which means you can go over it multiple times without it clumping up.

Continuing painting until the entire piece is painted. That's it!
Remember to MIX your milk paint through out your project as the powder does sometimes separate to the bottom.
Milk Paint dries in 15-20 minutes, depending on temperature. You can apply the second coat as soon as it's dry.
Most colours will need 2 coats. It all comes down to preference, if you prefer the look after 1, leave it at that.
There you go! Our next post in the series will be applying the top coat with a different colour of milk paint.
Happy Painting!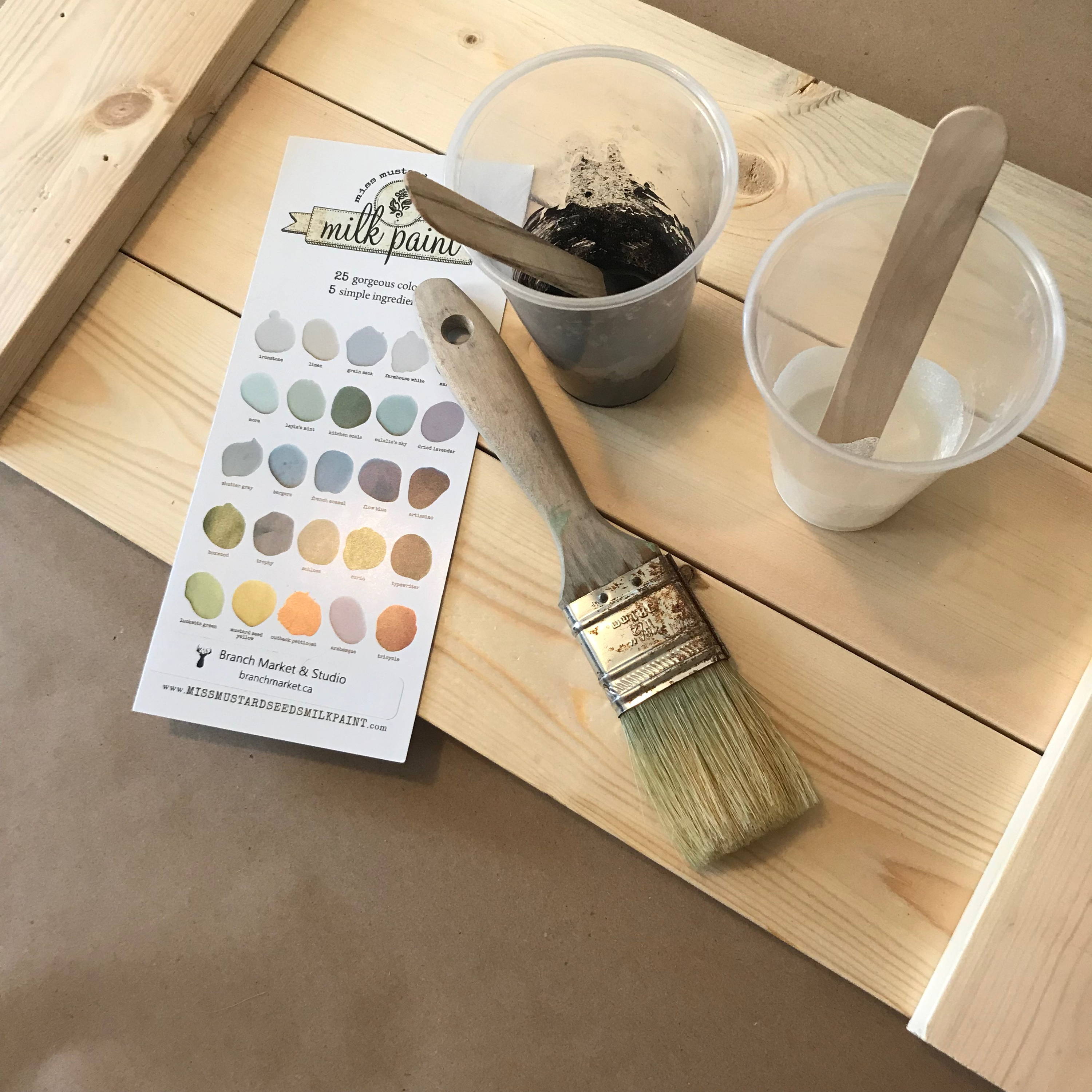 We've been using Milk Paint for quite some time now and we've collected three tips that will help you.
If you're painting a surface that has a high contrast to your milk paint colour, such as covering a dark wood with a light colour, you'll need 3-4 coats to get an opaque finish. A tip is to paint it a light grey first. That way you won't need as many top coats.
Since Milk Paint is a natural paint, it can have variations in colour & shade. Make sure you buy and mix enough up for your project and touch ups.
Test out on a sample board. This will make sure you like the colour & the look of the Milk Paint. Make sure you get a board that is in similar colour of your surface. This will also allow you to learn how to use the product.
If you have any questions feel free to come in store or send us a message! We love Miss Mustard Seed products and want to make sure you get amazing results too.